Fixing security cameras for your home or business can be a great way to feel safer about your property.
Whether you're looking to track a specific issue, or if you just want that extra security, an outdoor security camera can give you a lot of peace of mind.
However, one look online or in-store and you'll find that it can be difficult to find a security camera that doesn't come with a subscription.

This is because most modern camera manufacturers try to sell a service as well as a product.
It can be very frustrating to find the best security camera (see also: Best Wireless Security Cameras)that's right for you, only to see that there are additional charges that will last you a lifetime.
If you're struggling with this problem, then you've come to the right place!

In this article, we're going to take you through a list of the 5 best outdoor security cameras ( see also: Arlo Security Cameras Review)that you can buy without a subscription.
We've made sure to sum everything up in a handy list of pros and cons, and included both an extensive buyer's guide and a short Frequently Asked Questions section to help you.
Why Do Cameras Have Subscription Fees?
There are a few main reasons why camera systems will attach subscription fees.
Once, these were optional services that allowed you to get additional features, but nowadays they are almost essential to some highly-priced security systems.
Here are some of the ways that companies sneak their services into your purchase and make them non-negotiable.
Advanced Features
Some advanced features such as motion detection can be hidden behind paywalls, especially those that link to your app.
App Features
Many modern security cameras (see also: Night Owl Security Cameras Reviews)come with an app that allows you to monitor the video in real-time.
Unfortunately, some of these are hidden behind paywalls.
Cloud Storage
This is probably the most common kind of subscription fee that you will run into.
Many services will give you a 1-3 month trial before informing you that you will have to pay for additional storage.
Cloud storage is very important for a security camera, especially if you're looking to have total coverage with video footage.

These are the main reasons why cameras will have subscription fees.
However, this doesn't mean that you won't be able to avoid these extra costs.
There are many cameras out there that will allow you to use all their normal functionality without a monthly subscription.
Check out these 5 outdoor cameras below!
The 5 Best Outdoor Security Cameras Without Subscription
If you're looking for something a little more elaborate, then this is a security camera that has a lot of cool features without additional cost.
Like the camera we mentioned above, this is a 1080P camera, which means it suffers a little in the picture quality department, but it has some powerful features that set it apart from other cameras.
This includes night vision and a reliable motion sensor.

The night vision camera allows you to have color night vision that lets you record at night.
You can also switch to infrared if you need a clear picture with low light. The range is around 22ft.
The motion sensor works with this to help detect any potential thieves at night.
If you're looking for security at a low price point, this camera could be a good start for you!

Another thing we need to mention is its cloud storage that you can access without a subscription.
This is very unusual for a camera of this price point, so you should definitely check this one out if you want good value for money.
Pros
Cloud Storage: You can access it without additional subscription fees.
Night Vision: With infrared and full color to give you some good pictures.
Siren Alert: Helps with security against thieves or home invaders.
Cons
Resolution: Only 1080P Resolution.
Buyer's Guide
So that was our list of the 5 best outdoor security cameras that you can buy without subscription fees, but it's not the end of the story.
Trying to select the best security camera for your home can feel like a daunting task, so that's why we've decided to include this extensive buyer's guide to help you make the best decisions for yourself.
Read this section carefully and keep our tips in mind the next time you're shopping online or in stores.
Image Quality
The first thing you'll need to know (see also: What Are The Most Hacked Passwords? [20 Examples You Need To Know])is that price = image quality.
If you want extremely detailed picture quality, then you're going to need to spend a lot of money.
However, there are two image qualities you'll find that is the baseline. The first is 1080P, which is enough to see a lot of details.
The second is 2k HD, this will offer you a little more clarity.
These can however be massively affected by the light that is available where your security camera is.
Night Vision
Many camera systems will come with night vision, and this can massively vary in terms of quality.
You'll find a lot of night vision cameras aren't actually all that good, especially when you playback footage.
Make sure to double-check the night vision quality before you commit to a purchase.
Audio
Many cameras will also offer you a 2-way audio system.
This means that not only will your camera be able to record audio snippets, but it will also allow you to speak to whoever is on the other side of the wall.
This can be a good feature if you're looking for some additional security capability.
Field Of View
Field of view is a thing that many users will look past, but then realize is a vital part of a camera's functionality later in life.
Try to find a camera that has the highest field of view and mobility that you can.
Storage
The storage options available to you are going to be very important when it comes to how much footage you're able to keep.
Be careful here—many cameras will hide this functionality behind subscription paywalls, so make sure you stay vigilant and only take plans that seem reasonable and sustainable over long periods of time.
Advanced Capability
Some cameras will offer some very impressive advanced features. These can be things such as facial recognition, pet-friendly features, and built-in alarms.
All of these can allow you to get more control over your home security.
Just make sure that you double-check how well-designed these features are before you commit to a purchase.
We'd also recommend that you check out reviews to see how other people think these features work.
Design
Are you looking for a small, discrete camera? Perhaps you want something large and scary-looking that will act as a deterrent.
Whatever your idea is, you should consider this carefully before purchasing a camera.
We'd recommend getting a good idea of what it looks like in your hand, which can mean checking out images of it online or taking it out of the box in-store.
Final Thoughts
So that was our list of the 5 best outdoor security cameras that you can buy without a subscription.
As you can see, it can be difficult to find the best camera for you, but there are those out there that have been designed and sold with ethical consideration.
We would like to reiterate once again that you should make sure to properly inspect a camera's product listing to ensure that it doesn't come with any hidden fees.
Be careful—companies can be very sneaky when it comes to this subject, so make sure you keep an eye out for any hidden paywalls.

We hope that this guide has helped give you some ideas for your perfect outdoor security camera that you can use without a subscription.
If you still have some questions, make sure to keep reading for our Frequently Asked Questions Section.
We wish you the best of luck with your camera-buying journey and hope you find the perfect system for your home sooner, rather than later!
Frequently Asked Questions
What Are The Main Kinds Of Cameras?
There are three main kinds of cameras that you should look out for, and all of them offer different functionality which can help you in different ways.
Dome Security Cameras -

Dome security cameras have a discreet shape and impressive mobility. You've probably seen them hanging down from the outside of buildings before. They can typically see 360 degrees.

Bullet Security Cameras - These are very durable cameras that allow the user some impressive long-range capabilities. You'll find these most often in commercial settings like malls, parking lots, and warehouses.
Day/Night Security Cameras - These are cameras that have been designed to work at any time of the day. They will switch from day to night vision when they detect a shift in the light. These can be a great way to get 24-hour coverage.
Do Outdoor Security Cameras Require Wi-Fi?
It's important for you to know that most outdoor security cameras will use Wi-Fi.
This is a modern iteration because it helps them to run and provide you with real-time footage as and when you need it.
However, there are some outdoor security cameras that store footage on an onboard Micro-SD card.
Make sure to double-check which camera you're looking for and the capabilities of the camera you're looking at.
How Hard Are Wired Cameras To Set Up?
Wired cameras can be a real pain to set up, especially if you don't already have some of the electrical wiring required.
The benefit of a wired camera is that it's going to be a lot more of a permanent fixture.
It's hard to choose which is better, but it's certainly true that wired cameras are the more difficult of the two to set up.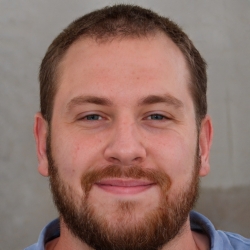 Latest posts by Matt Anderson
(see all)