French doors and sliding glass doors are beautiful and practical. However, they also come with a certain risk as they aren't as easily secured as other door types.
This poses a safety issue if you want to keep small kids safe and intruders out.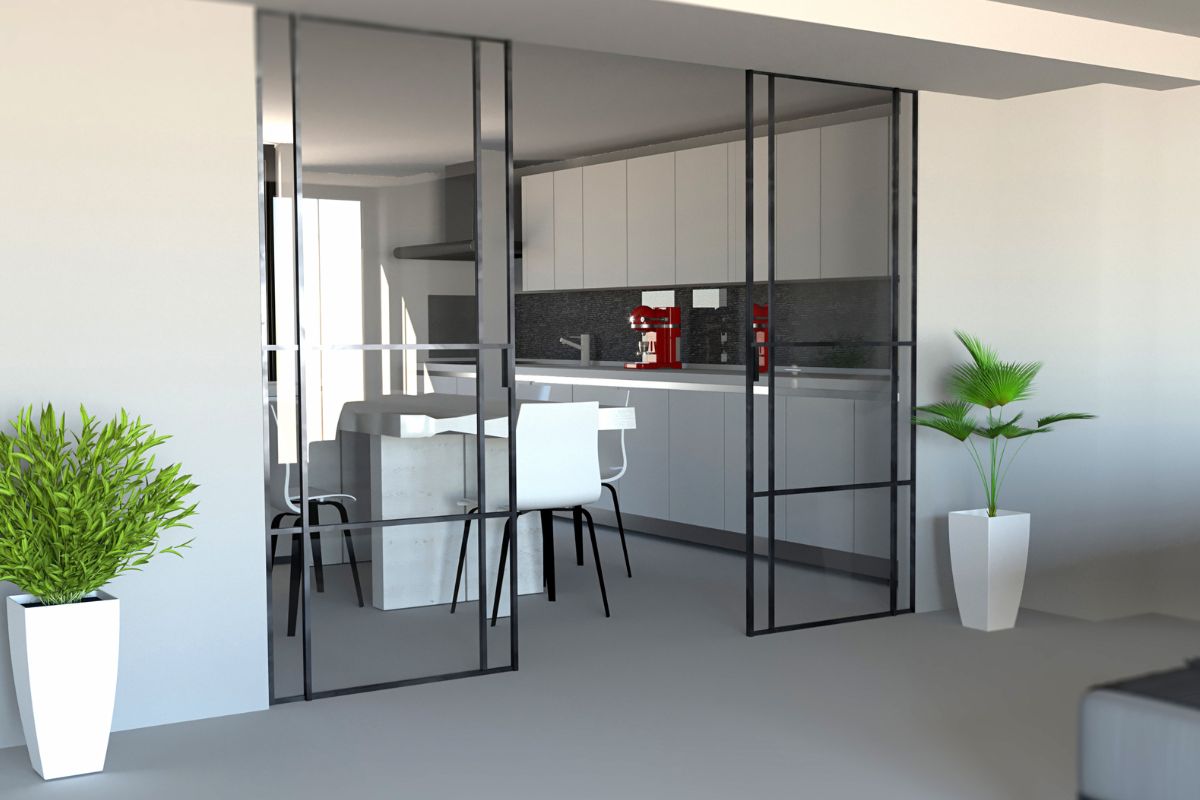 This being said, there are a variety of quick ways how you can secure a sliding glass door,(see also: How To Barricade A Door) including glass door locks, security bars and others.
In this article, we take a look at the safest options to secure sliding glass doors.
The Best Ways To Secure Sliding Glass Doors
There is a great range of different ways to keep intruders out of your home by securing your French doors.
Install Smart Sensors Around Your Doors
If you want to make sure that your home is safe, (see also: Best Biometric Gun Safe)then some type of electronic security system is a great option.
While smart sensors don't stop criminals from breaking in, they can alert the police or you of any unwelcome guests.
The majority of the big electronic security setups come with door sensors (see also: How To Bypass Garage Door Sensors)that send out an alarm or send a message to your mobile.
This being said, you don't need to buy an entire alarm system, if you don't think it's necessary.
Instead, you can also get individual glass break detectors or monitors for your French or glass sliding doors.
Glass break sensors can be installed quickly and easily.
However, they don't stop intruders from coming through the door. But the sensors sound an alarm when the glass gets smashed.
Buy A Security Bar For Sliding Glass Doors
One of the easiest ways to secure a sliding glass door is simply by stopping it from sliding. You can do this by installing a security bar, also known as "Charley bar".
These security bars usually sit in the track of the sliding door. Some security bar designs also sit further up and are secured with screws.
This design is ideal if you use your sliding glass doors regularly. It just swings in and out of place as you open and shut the doors. This makes security bars ideal for small children.
Plus, it only takes a couple of minutes to install a security bar. Just make sure you choose the Charley bars that suit your sliding glass or French doors.
Cover The Sliding Glass Door
One of the biggest advantages of French doors and gliding glass doors is that they allow a lot of light in. Plus, you can also easily look out.
However, this is also what makes glass doors an easy target for criminals and intruders. It allows them to get a good look inside your home.
That's why it's a good idea to secure your sliding glass door by covering it with vertical blinds or a window film.
This being said, vertical blinds need to be handled with care as they can break easily with pets and children around.
Alternatively, you can also use shutters or sliding panels that are more solid. However, they are expensive.
This means that if you want to save money, decorative window film can be a great, affordable option to secure your sliding windows and doors.
Add A Sliding Glass Door Lock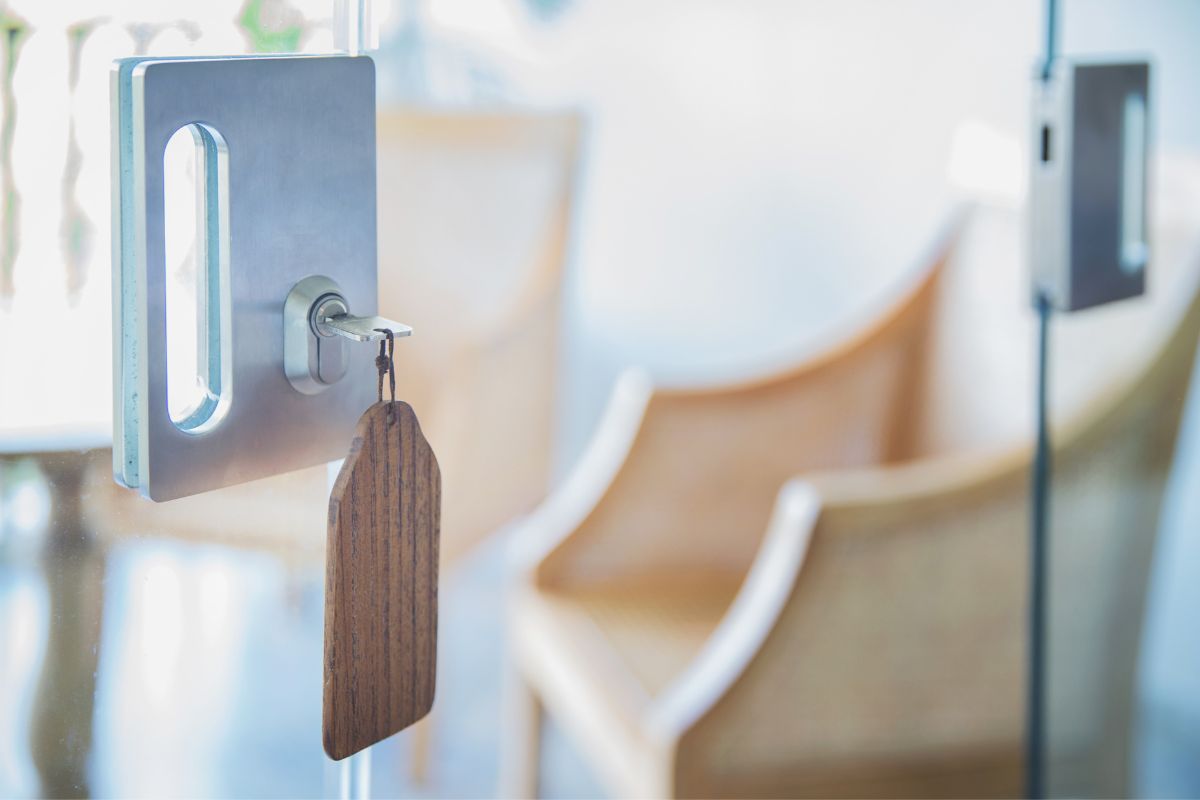 One of the most effective ways to secure a glass door that slides is by installing a sliding door lock.
These door locks are added at the point where the sliding glass door and the static glass meet.
One big benefit of these sliding glass door locks is that they can only be operated by a tall child or an adult.
This means that smaller children won't be able to open the doors from the outside or the inside.
This type of lock typically comes with a couple of different locking positions, from fully closed to a small gap that allows for ventilation.
In addition, the locks are usually white or brown, so they can be easily installed without being visible.
How To Install A Sliding Glass Door Lock
Each sliding door lock is slightly different but these locks only take a few minutes to install.
First, you'll need to fully close your sliding doors. Then clean the upper track of the glass door and remove any debris.
Next, you will need to place the lock into the track and mark the pilot holes. Then drill through the hole marlins and secure the lock.
Then, you will need to follow the same process for installing the other component on the door.
Make sure that you check the instructions for your specific sliding glass door lock.
Install A Security Door Brace
French doors, bi-fold doors and sliding glass doors all allow a lot of light in but they also provide an unobstructed view for criminals.
If you want to keep your beautiful view, then you can install a security brace on your French doors. This prevents the doors from being opened.
Door braces for sliding glass doors have two parts. Both are easy to install.
One part simply slides in and out of the door, while the other needs to be screwed into the floor at the bottom of the door.
You may want to get a door brace installed by a professional if you have a tiled floor, to make sure that there are no cracks.
Choose A Safe Sliding Glass Door
If you are looking to replace your old sliding glass doors, then it's a good idea to shop around for security doors.
These security doors have double or triple glazing which is much harder to break than single panes of glass.
Are Sliding Glass Doors A Security Risk?
Yes, sliding glass doors, French doors and any type of glass door are vulnerable to break-ins. This is due to the lack of secure locking mechanisms and easily shattered glass.
However, you can install additional locks on your sliding glass doors to ensure that your home is secure.
Final Thoughts
It's not as difficult as it sounds to secure your sliding glass door. Just install a glass door lock, smart sensors, security bars or a security door brace.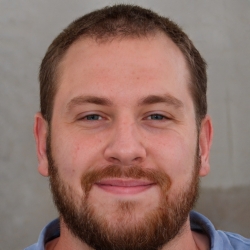 Latest posts by Matt Anderson
(see all)